Misha Mengelberg, 81, Pioneering Pianist Of Europe's Jazz Boom
Mar 15, 2017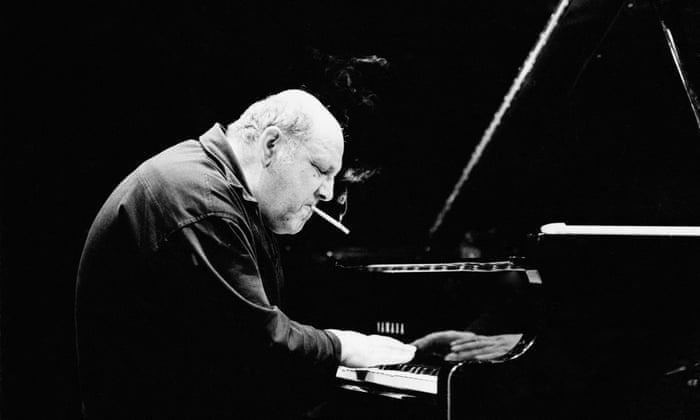 Misha Mengelberg performing in Nijmegen, the Netherlands, in 1996. Photograph: Frans Schellekens/Redferns
In his last years the Dutch pianist, composer and improviser Misha Mengelberg, who has died aged 81, would sometimes whistle and sing in conversation with visiting friends when advancing Alzheimer's disease made words particularly elusive. But conversing this way was perhaps not as big an inconvenience for Mengelberg as it might have been for some, since much of the music he had initiated and participated in for more than 50 years resembled a spontaneous conversation in which narrative was capricious, logic unreliable and diversionary humour frequent.
Mengelberg was one of the most creative jazz pianists to emerge in the first phase of Europe's breakaway from American jazz styles in the 1960s, good enough to record with the pioneering American reeds player Eric Dolphy in 1964 and to perform at the Newport jazz festival two years later. Mengelberg had been intrigued in his youth by the jazz methods of Duke Ellington, Thelonious Monkand Herbie Nichols, and had transcribed jazz solos while studying the classics. However, he was soon exposing those materials to creative pressures from non-jazz radicals including John Cage and the interdisciplinary experiments being pursued in the US and Europe by futurists, dadaists, and the 1950s Fluxus artists - as well as the Taoism of Lao Tzu.
The description of the movement by Fluxus pioneer George Maciunas as "a fusion of Spike Jones, gags, games, vaudeville, Cage and Duchamp" makes a pretty good description of Mengelberg himself. He would shift unceremoniously between traditional swing and flinty improv or graceful virtuosity and slapstick, inject weird wordless vocal variations into meticulously composed instrumentals, and tease audiences with the expectation of resolutions that never came. He had a reputation for forgetting appointments, sometimes arriving late for gigs, taking to a stage through the wrong door carrying a cup of coffee – and recording musical dialogues with his wife's parrot, Eeko. Despite appearances, Mengelberg maintained that the bird hated him, since it would regularly mimic his best ideas better than he could play them himself.
But if Mengelberg could seem to be a flippant individual who took neither himself nor anyone else seriously, it was a smokescreen that concealed an influential lifetime of work as both an artist and an enabler. He was an initiator of the Instant Composers' Pool(ICP), a collective comprising many of the Netherlands' most inventive jazz avant gardists, which evolved a diverting chemistry of Ellingtonian swing, uninhibited free jazz and performance art.
READ MORE: https://www.theguardian.com/music/2017/mar/08/misha-mengelberg-obituary